For the Newbie Jordan Collector: A Guide to Some of the Best Colorways
If you're looking to make a smart sneaker investment, Nike Air Jordan's should be your top choice. Jordan shoes generated over $3 billion in sales in 2019 alone. So, it's safe to say they're in high demand. 
Whether you want to buy for yourself, someone else, or re-sale, knowing the best colorways is critical. 
What are colorways, why do they matter when it comes to Jordans, and what are the best colorways to get? We're telling you the answer to all of these questions next, so check it out. 
What Are Colorways?
The term "colorway" isn't exclusive to Jordans. Artists and designers commonly use this word to describe color schemes. Technically, a colorway is simply defined as the colors used to design a particular product.
When it comes to Jordans colorways, the color scheme is often more critical than the sneaker model. This is especially true if you plan to resell your kicks. A rare colorway on a rare model shoe will sell for much higher than a rare model in standard hues.
Here's another expert reseller tip: Jordans colorways with popular nicknames go for higher resale rates. And Jordans collabs with designers? Those will re-sell for even more.
The Best Colorways for Jordans
Think red, black, and white is all Jordans has to offer in terms of colorways? Then you obviously haven't seen all this brand has to offer. Keep reading for a list of our favorite Jordans color schemes of all time. 
The Air Jordan 1 Banned Colorway
The bold crimson and black color scheme of the "Banned" Air Jordan 1 is as striking as it is full of history.
Legend has it that the NBA fined Michael Jordan for wearing a pair of red and black Nikes that didn't match his uniform. Sneakerheads swear that the pair he wore was the OG Air Jordan 1 in red and black, which is why it's now known as the Banned colorway.
If you can't get enough of the Banned colorway, check out the Air Jordan 31 version. Updated for the times, this shoe features a red and black gradient effect and the colorway's signature red and white sole. 
The Air Jordan 7 Hare Colorway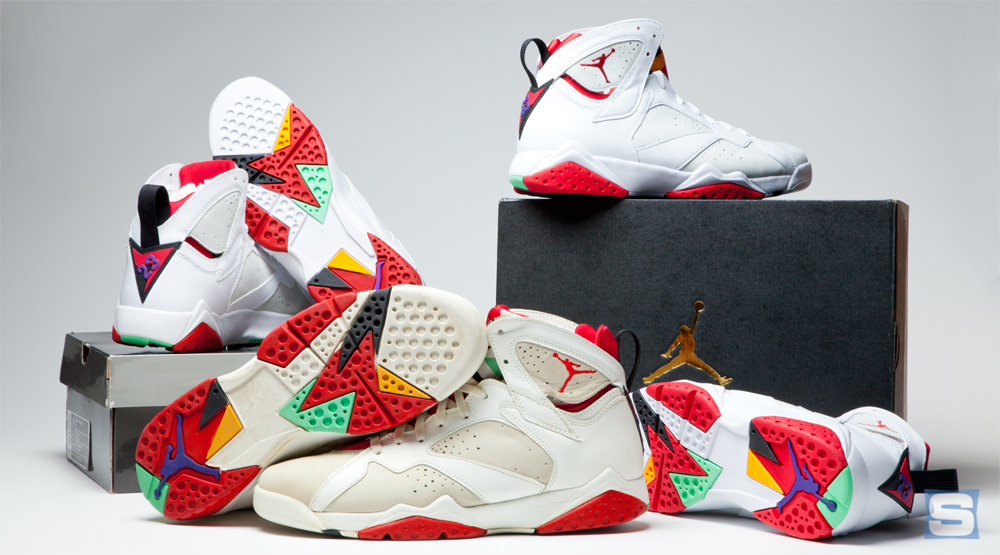 The Hare is arguably the best collab Jordans has ever done. That's because Jordan teamed up with none other than Bugs Bunny to create the Air Jordan 7 Hare colorway. 
This shoe is mostly white, made up of a combination between matte leather and perforated suede. The sole, upper, and pull tab feature red highlights, and the tongue showcases a bright pop of seafoam green. 
The Air Jordan 10 Chicago Colorway
When Michael Jordan came back to the Chicago Bulls in 1995, the Air Jordan 10's Chicago colorway was born.
This color scheme utilizes the Chicago Bulls colors — red, white, and black. The shoe is mostly black and white leather, with subtle hints of red at the soles and uppers. If you're looking for a classic Jordan design that'll go with everything, this colorway is it.
The Air Jordan 11 Concord Colorway
Michael Jordan made this shoe popular before it ever hit shelves. Rumor has it that he wore the shoes non-stop for at least a year before the Concord colorway was even available to the public.
The Air Jordan 11 Concord colorway showcases white uppers with patent leather color blocking on the lower shoe. The soles are color-blocked, too, with white rubber giving way to the shoe's namesake concord blue.
If you want a colorway that's both unique and flashy, these are the Air Jordans for you.
The Air Jordan 12 Playoffs Colorway
Speaking of color blocking, the Air Jordan 12 Playoffs sneakers showcase Jordan's signature color-blocked overlays better than almost any other colorway.
The Playoff got its name from the fact that Michael Jordan wore these kicks during the 1997 NBA Finals' Game 1. With pebbled black leather uppers, textured white leather lowers, and icy-white soles, it's no wonder these shoes are a classic for the brand.
The Air Jordan 15 Stealth Colorway
The Jordan 15 Stealth colorway doesn't have as long of a history as many of the others on this list. Yet, they're worth mentioning for the simple fact that it's one of the brand's only single-color schemes. 
Stealth features black on black, using texture to create contrast instead of color blocking. The Jordan 15 itself showcases a platform-like sole with a heel strip inspired by designer kicks from the likes of Prada.
If you want a shoe that's even more out of the box, try the Air Jordan 20, which also comes in the Stealth colorway. You'll just have to trade-off for the color details, including the red velvety interior and white leather heel strip.
The Air Jordan 32 Rosso Corsa
Inspired by the Air Jordan 2, the 32 model is perfect for nostalgic Jordans lovers. But the Rosso Corsa does classic with a twist. 
The Rosso Corsa colorway is another single-color scheme, but this time in a striking red. All that red gets broken up with the knitted fronts, leather upper and heel strip, and slightly lighter red sole. 
Get the Best Jordan Colorways from Kickstarter
You can argue all you want, but these are the best colorways of all time. Whether you're looking for show-stopping pair to wear or a rare colorway to re-sell, we've got you covered with these seven envy-worthy color schemes.
Are you searching for one place for all your authentic Jordans needs? KicksCrew is the place to be. Check out our new-in Air Jordans now to find the perfect pair.