More for Your Collection: The Best Non Numbered Jordans
Did you know Michael Jordan's journey with shoes began in 1984 when he signed a deal with Nike to endorse one of their basketball shoes? Jordan's manager convinced him to sign, though at the time he preferred Adidas and Converse.
Non-numbered Jordans are gyms shoes that aren't a part of the main set of releases. Keep reading and we will walk you through the best non-numbered Jordans that are worth adding to your collection.
Difference Between Numbered and Non-Numbered Jordans
There are 35 numbered Jordans, and each release has had more hype than the last. These signature shoes revolutionized athletic footwear, that everyone from professional basketball players to celebrities to boys with a dream of playing basketball wear.
Each numbered shoe tells a story about where Michael was at in his career. You can see the style, color, and Michael Jordan's accomplishment with each numbered shoe.
The main difference between numbered and non-numbered Jordans is that numbered Jordans are made and released through the Jordan/Nike brand.
Non-numbered Jordans started in the late 1990s and have a variety of colorways, there are so many to choose from it's hard to keep track of all of them.
Another between numbered and non-numbered Jordans is that there are even more variations and colors for non-numbered Jordans.
We are going to go through some of the best made non-numbered Jordans that you need to add to your collection.
Top Non-Numbered Jordans
Patterns, colors, fusion. All of these words describe the non-numbered Jordans and their unique looks.
Jordans celebrate Michael Jordan's accomplishments. Some people say that they feel more confident and powerful when they put on these shoes before heading onto the court.
At one point, Jordans were banned from the court because they broke the league's uniform rules. Nike paid $5,000 fines every time Michael wore them on the court.
They became iconic, everyone wanted the "banned" sneakers. Jordan had an entire marketing campaign surrounding the NBA's rules about not being able to wear them on the court.
The shoes have color schemes that represent different teams, collaborations with other players, artists, and retailers, and more. You will see other professional basketball players wearing these shoes.
We will go over some of the best non-numbered Jordans that you can find at KicksCrew along with all of the numbered Jordans.
Jordan Team 1 "UNC"
Hot on the market in 1997, these are some of the most infamous Team Jordan silhouettes. Jordan Team 1's were everywhere in the late 1990s.
The white/Carolina blue model is one of the more popular color models that represents UNC. 
Jumpman Six Swift
Eddie Jone's signature Jumpman Swift 6 came out in 1999. It was Eddie's last year playing for the Laker's and these shoes are a great retro '90s throwback, available in multiple colors, but most notably Lakers purple and yellow.
Jordan Pro Strong
The Jordan Pro Strong's were modeled after the Air Jordan XIII. They came out in 1998 and have multiple colors from white and black, to white and red, to racer-pink and blue.
Jordan Six Rings "Concord"
Released in 2008, the Jordan Six Rings "Concord" was inspired and created by fusing parts of all six sneakers that Michael Jordan wore when he won six NBA titles.
This fusion works because of the meaning behind it and the clean black and white coloring and "Air Jordan" strap screams champion.
Air Jordan Spiz'ike
The Air Jordan Spiz'ike's came out in 2010. It's one of the more accepted and liked fusion silhouettes for non-numbered Jordans.
The classic red and black coloring or the other variety of colors and patterns make these shoes a no-brainer addition to your collection.
Jordan CP3.VII "Bel Air"
These were released in 2013 and the Bel Air colorway was very popular. The coloring includes fuchsia, ice blue, lime green, and fun bright colors and patterns on the inside.
The CP3.VII one of the top non-numbered shoes that Jordan's ever produced.
Jordan Super.Fly 2
The Jordan Super.Fly 2 went on the market in 2013 and it includes the top tech, modern colors, and Blake Griffin's signature.
These shoes come in so many different color options and are all the hype for non-numbered Jordans. They are coming soon to our website. 
Air Jordan Future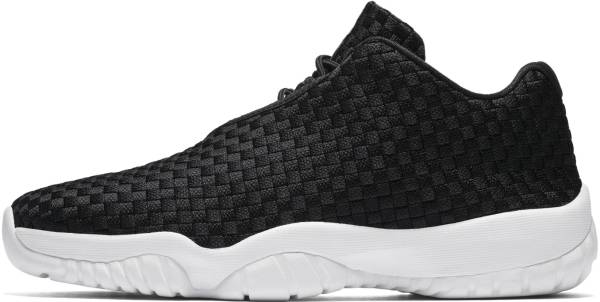 The Air Jordan Future was released in 2014 and is one of the most popular non-numbered Jordan in recent years. These shoes set the internet on fire.
The shoes have a signature outsole and woven upper material. They come in so many colorways and are a must add to your collection. 
Nike Air Jordan 1 Retro OG High Basketball Shoes/Sneakers
Nike Air Jordan 1 was released in 1985 and been around for over 3 decades. The OG silhouettes have been revamped over the years with fresh colors, new materials, and collaborations with different artists, designers, and retailers.
Check out these one of a kind retro sneakers on KicksCrew with a new take on the OGs that includes tie-dye coloring and other fun symboling and designs.
Jordan TRUNNER NXT React HTM
The Jordan Trunner NXT React HTM's were born in 2019 and are a modern take on training shoes. The Jumpman branding is stamped on each side panel.
The shoes slightly resemble the Nike Zoom VaporFly Elite, but there is react cushioning in the midsole as well. The aesthetically-pleasing shoe includes cubic graphics that overlay the shoe in red, turquoise, and purple add a stylistic flair. 
There are endless non-numbered Jordans you could spend hours browsing through. These top options are a great place to start because each has so many different styles and colorways.
If you're an avid sneaker collector non-numbered Jordans will be your favorite shoe because of the many options. You will never stop browsing.
Get Your Favorite Non-Numbered Jordans
Now that we've walked through some of the best non-numbered Jordans, pick out your favorite pair and get them today.
You can browse through the many colors, styles, and decades of fusions. Celebrate Michael Jordan's accomplishments and feel the power and confidence when you put on these gym shoes.
Pick out your favorite pair or check out our website with all different Jordans here!